Imagine that you are planning an office relocation. You have already picked a convenient moving date, found a top-notch office removal service in Canning Town E16, for instance, and now the only thing that you have to do is to pack. The most important type of packing supplies which you will need for this purpose are cardboard boxes. They can:
Be purchased for a cheap price
Fit a wide range of possessions
Provide your items with a good protection
Be used not only for moving but also for storage
Be easily disposed of
But before you put anything in your moving boxes, make sure you know their exact weight capacity.
Why is it important to know the weight capacity of your moving boxes?
Knowing the optimum weight that a cardboard box can hold will allow you to safely transport and handle your items. Your box will be less likely to tear or give in to the weight of the goods that have been packed in it. What is more, you will be able to avoid any risks when carrying the boxes. Otherwise, you may easily strain your back or injure yourself. Having accurate information on the weight capacity of each cardboard box you are planning to use during your relocation will also help you pick a moving vehicle with an adequate size.
How to determine the weight capacity of different boxes
It is always best if you buy brand new boxes that were specially produced to meet the needs of people who are moving home or office. That is because such packing supplies are usually more durable and sturdy. Plus, they tend to come with a detailed information about their maximum capacity on them. So, instead of using second-hand packing materials or getting free boxes from a grocery store, for example, contact a local removals company such as Removal 24 and ask for a time-efficient packing supply delivery in London. In that way, you are guaranteed to stock up with quality packing materials and boxes and you will have someone to call in case you are not sure what you can pack in each of the cardboard boxes you get.
Poorly labelled boxes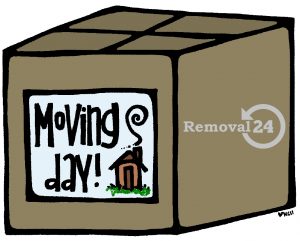 If your moving boxes are brand-new but they do not contain any instructions on their weight capacity, know that a standard box has a bursting test capacity of 200 lbs/in2 or 14 kg/cm2 which means that they can hold items with a maximum total weight of not more than 13-14kg. Boxes marked with 250# can hold a weight of not more than 22-23 kg while those that have a bursting test capacity of 275 lbs/in2 can be used for loads of up to 30 kg.
In case you need to move an extra heavy item, it is best if you pack it separately, in a box of its own and handle it by using a moving dolly. An even better and safer solution would be if you pack overweight possessions in crates which are much sturdier compared to regular cardboard boxes.