If you don't have the time or resources to handle your London waste collection and disposal project, keep calm and give us a call. We are a professional removal company but we can also lend you a hand with your rubbish clearances duties.
We have the needed assets to smoothly execute even the most labour intensive and time consuming garbage removal projects. We operate with a flexible agenda which means that we can clear all the junk from your property before or after your relocation. The quantity of the accumulated waste won't be an issue as our team of rubbish collection specialists is immense and properly equipment with the most modern instruments. We are tell you all this because we want you to know that by choosing us you are choosing professionalism, punctuality and quality.
Watch us clear your property from all types of rubbish
We have the technical capacity to easily remove large pieces of junk such as:
Old pieces of furniture
Damaged kitchen and bathroom appliances
Out of tune musical instruments
Out of order television sets and stereo systems
Broken garden features
We can also assist you into the acquiring of permits for rubbish removal in London, that will allow you to store sanitary, construction and landscaping garbage into skips. If you don't have a large enough bin to keep all the junk, have no worries as we can rent you one or several of ours for a highly reasonable price.
You property will be fully protected
The clearance equipment that we use is personally tested by us and this is why we can boldly promise to all our clients that their properties won't get damaged during the collecting process. We are also fully insured which means that our customers will get reimbursed in the case of an unwanted event. Please, bear in mind that our current accident ratio is 0% due to the fact that we always work with the utmost respect towards the household and places of work of our clients.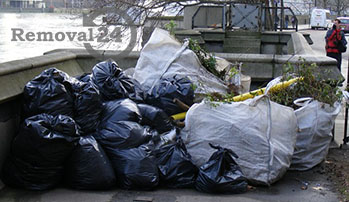 You can book our services at any time of the day as we have a 24/7 customer support centre. Don't be afraid to contact us on a short notice because we always have free slots for new London waste collection and disposal projects. We also tend to conduct late night operations which is a fact that is highly appreciated by our commercial clients as its means that we can remove the rubbish from their places of work after hours and not bother their business routine.
We will gladly answer to all your questions and present to you your free quote is you get in touch via e-mail or telephone. Keep in mind that our quotes are final which means that we would never surprise you with hidden fees and taxes.
Our firm is based in the capital of England, London. The city is home to some of the finest art galleries and museums in the world. The National Gallery is considered by many to be finest art museum in the United Kingdom. It was established in 1824 and has an estimate of six million visitors per year.