If you are looking for comprehensive and high – quality moving services for your upcoming business relocation, you have definitely come to the right place as we are one of the leading movers in London. We got into the moving industry several years ago and since then we have managed to build for ourselves a rock solid reputation that always get the job done perfectly and without any complications.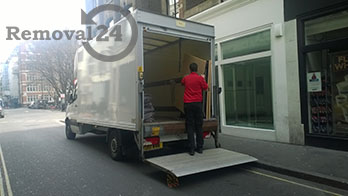 We know the relocation industry like the back of our hands which means that we can easily solve all your moving conundrums and organise the logistics of your commercial removal in London. We have a crew of qualified and hard working movers who won't hesitate for a second to walk the extra mile in order to complete your move in full accordance with your personal preferences. Even more, we are always ready to work after hours and conduct late night operations if the job requires it.
We have a rich history of successful moving projects behind our back
Throughout the years we have worked on numerous business removals in London and trust us when we say that we have the expertise to easily move any type of commercial established from point A to point B. To us it doesn't matter whether we have to relocate an office, store, public house or warehouse because we have the manpower and technical capacity to properly handle jobs of all scale and timetable. We maintain nationwide coverage which means that we can easily help you move to or from the English capital.
Don't worry about your expensive and delicate office equipment, appliances and machinery because our packers will prepare them meticulously for the loading and transportation stages of your commercial removal in London. We work only with the best packing supplies and more important we tend to use specialised protective gear such as:
Hardtop containers
Wooden crates
Furniture blankets
Cushioned sheets
Bubble wrap
Dishpacks
Packing peanuts
We also sell and deliver packing materials, so if you are planning to handle the packing stage of your move, give us a call and we will gladly bring to you all the supplies that you need.
We invite you to contact us at any time of the day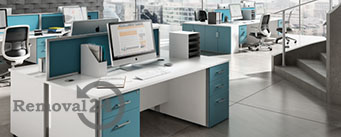 Please feel free to contact us by telephone or e-mail if you have any questions regarding your man and van services. Our customer consultants will provide detailed answer to all your questions and will happily present to you additional information about our company and methods of work. They will also ask you about the parameters of your upcoming removal, so that they can draft your personalised quote and send it to you. Bear in mind that our quotes are free and are non-binding. However, we are more than certain that once you read it you will be convinced that we are indeed the best movers to handle your move.
Relocate your business anywhere in the capitol
We also invite you to explore our website in order to get a better understanding of all the other services that we provide. Know that we are eager to work with you.
Our company operates in London. The city is the capital of the United Kingdom and is one of Europe's largest cities. London is home to some of the most recognisable buildings in England. 30 St. Mary Axe also known as the Gherkin is perhaps the most distinguishable edifice in the English capital. Its construction commenced in 2001 and ended two years later in 2003. The structure was officially opened in 2004 and has a height of 180 metres which makes it one of the tallest structures in Western Europe. It has a total of 41 floors and covers an area of 47.950 square metres. According to recent studies it is one of London's most photographed skyscrapers.