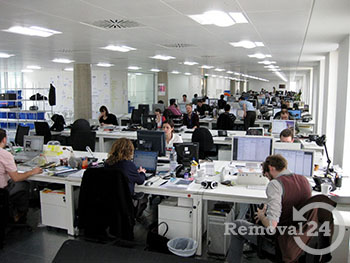 Business has been well and growing and now you have to relocate your workplace to a larger and better located property. If you have moved before then you must certainly know that all removals are stressful and laborious. However there is a big difference between domestic and commercial moves, and the manner by which you must approach them. So, if you are moving your place of work for the first time, keep reading because we will present to you a relocation plan which will allow you to easy and facilitate your business removal.
Step 1: Notify your clients
As soon as you decided to relocate, you should contact your customers and notify them that you will be moving from your current location. Tell your clients when you are moving, for how long you will be closed and don't forget to provide them your new coordinates and contact details. By doing so, you will not only handle the matter at hand in a professional way but you will also showcase to your customers that you wish to continue to work with them as they won't be surprised when they come looking for you at your former workplace.
Step 2: Notify your employees
Your workers are as important as your clients, so you shouldn't wait to the last minute to announce them your decision. This will permits your employees to decide whether they can move with you and whether they are willing to commute. You will also give them enough time to complete their ongoing affairs before removal day arrives. This is very important as you won't have any pending deals to think about and all your customers will be satisfied as their needs will be covered for the duration of your relocation.
Step 3: Hire professional movers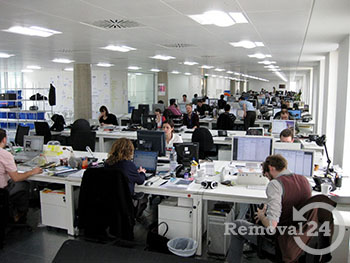 Commercial removals are laborious and demanding projects, so it is for the best if you delegate the task to licensed and seasoned removal contractors in Canary Wharf. This way you will have the peace of mind that your expensive and delicate assets will be packed and hauled by properly equipped professionals who will take all the necessary precautions to ensure the secure and timely completion of your business relocation. While hiring professional movers may be costly, it will certainly be a good investment as you will be able to reboot your business as planned and you won't suffer any loses and damages during the move.
Step 4: Have your employees pack their cubicles
A week prior of the move, gather your employees and have them pack their work spaces. Your workers know best which folders are still open and which are sealed and can be disposed of. This way you will have the peace of knowing that all important documents will be taken with you. It will also give the opportunity for your employees to gather their personal belongings.
Step 5: Leave the packing of your furniture and equipment to the movers
Professional man and van contractors use a wide selection of diverse shielding products and tools to ensure the proper packing of large and small furnishings, and fragile items such as:
Computers and laptops
Scanners and printers
Communication systems
Manufacturing machinery
Projectors
Digital devices
Step 6: Clear the parking lots at both properties
Make sure that the movers have an easy access to both properties. This will ease the relocation as it will speed up the loading and unloading process.