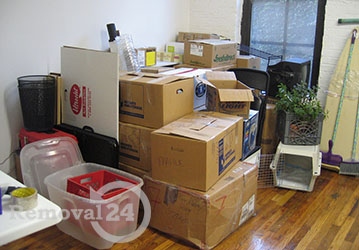 For a safe and secure removal, you need to make sure you have the right packing supplies and moving equipment. If you hire a moving company to pack your items, they will usually provide packing supplies and some will charge this service while others won't. This service guarantees that professional packers will strategically pack your belongings into appropriate boxes and protect large items with blankets and other moving materials. If, on the other hand, you choose DIY packing, you can rent or buy packing supplies or you can obtain some for free. This is time-consuming process as it will take you time to acquire material and then pack everything. But, eventually you will save some cash.
Where can you find packing supplies?
You can purchase packing supplies at the local supermarkets and stores, mail service stores or office supply stores. You can also buy them on various websites that offer these kinds of supplies. You can browse and compare prices before you find a site that suits you most. Also, you can get some cardboard boxes or plastic crates for free at your local grocery stores or liquor stores. Just ask the manager to save some for you. You can check with different offices that recycle boxes and ask them to give you some. They will be happy to help you as they have to pay for recycling service anyway, so they will save this way, too. As far other packing supplies are concerned, such as duct tape, labels, etc., you can find these in specialised stores that offer moving kits. Compare prices before you decide where to buy and check if there is a sale or a discount of some sort.
Specialty packing supplies
You can buy specialty boxes in stores or online. For moving mirrors and valuable artwork, you will need stronger boxes that are shaped to fit. Also, you will need corner protectors to make sure the corners are intact during transportation. If you cannot afford these specialty boxes, you can use corrugated cardboard and improvise. However, it is recommended that you use customized boxes for such valuable items. You can also find lamp boxes, guitar boxes, mattresses blankets, furniture blankets and many more. However, you can improvise with moving blankets and use regular blankets, towels and old clothes for protecting and covering large items. This will help you save money.
Have packing supplies prepared
The last thing you need in the middle of packing is to find out that you are out of boxes or other moving supplies. To make sure this doesn't happen to you, make a list of packing supplies and determine how much material you will need. After you obtain everything from the list, set them aside so that they are reachable. A tape dispenser, labels, markers, boxes, blankets and other should be at one place. If you are not sure what else you will need, ask a friend who has moved recently for advice or go online and find useful tips on packing and packing supplies. If, on other hand, you are hiring professional full service moving company for the job, just relax and let them take care of your removal.