As any good businessman would know location is of key importance no matter the essence of the work you are doing. The place you choose for your office can make or break your company.
What does using our services entitle you to?
With the extremely high current demand for office removals in North London, staying on top of our business is no easy feat. We here at Removal 24 however have managed to hold our place in the moving industry in North London for many years now.
There are many factors that contribute to our success:
Our crew
Only a lucky few get to be part of our team. We have an unusually strict hiring procedure to ensure that we weed out all those who are not up to task. Once we are sure we have at our disposal careful, punctual and dependable individuals we let them undergo an extensive training procedure which makes them specialists in all things moving-related, proper for any relocation job in North London.
Our materials
We value the safety and the health of the environment immensely here. This is why we work with only the highest quality of recyclable and biodegradable packing. Using it our skilled packers take great care to sort your belongings before they take their journey to their new destination in the N postcode area.
Our vehicles
We have one of the most technologically advanced collections of lorries and loutons in the business. We pride ourselves on making rapid and safe deliveries all over North London, N using them. Our veteran drivers know all the quickest routes to do it.
How do you hire us?
We reaching us is beyond easy. All you need to do is give us a phone call or, alternatively, hire our services online.
We are a company that aims to always leave our customers happy, so they come back for more, which is why we offer the best possible conditions of removal service in North London. We understand that part of the reason why you would hire us is to guarantee the safety of your belongings which is why we include full insurance with every job we do.
When you hire us you can be sure that you are getting the lowest possible prices. This is because of our unique way of forming our rates, which is based on the difficulty of the job in question. Do not forget to ask for an estimate.
Other services
While we deal mainly in relocations (household and commercial), we have other, equally excellent services for you to choose from. We guarantee that our staff members that deal with them are just as qualified and experienced as our movers and packers you can book anywhere in N, North London.
Store and office moving in North London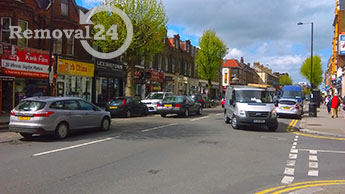 Our waste removal services, for example, might interest you if you are running a business that consistently produces large amounts of refuse. We will take care of your garbage with extreme speed and for a very modest cost. Same as before, hiring us is very simple and it can be done at any time since we operate all day, every day for your added convenience. Do not forget to check out our other services as well.
A storage service for all N postal districts
We will take care of every single detail of your office removal in North London, including looking after a part of your goods or all of them for a short or long period of time. Our storage solutions are very comfortable. They entitle you to a clean and secure storage unit fit to your needs, for as long as you need it at a modest price. No minimal contract period applies.
London with its enormous cultural diversity and its astonishing eight and a half million inhabitants is the largest city in the entire European Union by a rather large margin. Its enormously wealthy cultural history is evident by the great deal of landmarks and buildings scattered around the city that attract thousands if not millions of tourists every year from across the globe. Up until the last century it was mainly the northern part of London that was heavily urbanized. Much of the center of the city is located in North London, which is split from South London by the River Thames.
North London is generally considered to be the better half of London. The reason for that is simply that it witnessed the urban and suburban expansion of the capital earlier than the south. North London contains some of the most attractive suburban developments in London, as well as a large number of parks, commons and designated Nature Reserves that are considered to be part of the so called Metropolitan Green Belt of London.