When it comes to professional and cost-effective office removals, we are the company you need, with years of industry experience and impeccable work record, we know how to move your place of business quickly, safely and without the usual high costs.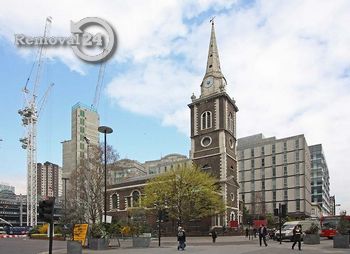 Aldgate Office Removals has the technical capacity, expertise and manpower to organise and carry out successfully your office removal, no matter how specific or elaborate your service requirements. Our aim is to make your office relocation an affordable and manageable process that doesn't get in the way of your daily business. In order to do this, our expert movers and logistics specialists will take care of the entire relocation from start to end.
Our office removal services are flexible and can be customised to suit specific purposes and requirements. If necessary you will be visited for a preliminary job viewing by one of our qualified logistics specialists who will assist you with additional service options like storage for instance, and help you organise and schedule the actual removal so that the job is completed successfully within the allocated amount of time and with minimum disruption to your daily schedule, and other businesses on the premises, if there are such.
Best equipped removal vehicles in Aldgate, EC3
We can ensure the safe transportation of your belongings as we have an armada of new, clean and fully stocked Lorries and Lutons. Our vehicles are equipped with top notch GPS systems and high end harnesses which prevent transit related accidents by keeping the hauled items from moving. It many ways it is because of our first grade vans and trucks that we have always managed to complete the office removals in Aldgate, EC3, for which we have been hired in a timely manner.
We work with specially trained, professional movers as this ensures safe handling and damage-free transportation of your items. Our expert movers will carry out the removal in a well organised, structured manner, the moving process itself will be supervised by one of our qualified logistics specialists who will make sure each stage of the removal is executed timely and efficiently. Aldgate Office Removals offers a truly comprehensive office relocation service and will help you with packing, securing and labelling of items to be moved, this is especially important if you are relocating multiple offices and their contents. The company can also offer customers single item office removals, which are great for when you need to quickly shift certain pieces of equipment, office furniture or filing cabinets from one place to another without having to pay too much for it. We guarantee damage-free transportation of all items and same day delivery.
We operate mainly throughout the ward of Aldgate and its surrounding areas. It lies in the central parts of London at any two miles from the noted junction of Charing Cross. The ward is connected to the other parts of the city by the Aldgate Tube Station which was opened in 1876 and sits on the Circle and Metropolitan Lines from the London Underground Network. The station is used by over seven million people on a yearly basis.
Addington Addiscombe Aldborough Hatch Aldgate Aldwych Alperton Anerley